Be on Alert as Soon as a Power Outage Occurs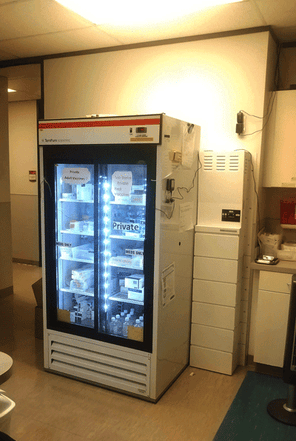 Battery backup power provides the ultimate protection in case of an outage. Battery Powered Generators:
Automatically Detect an Outage and Deploy Emergency Power
Begin Powering Appliances in Milliseconds
Provide Backup Power for Medical Imaging, Pharmaceutical Cold Storage, Office-Based Surgery, Ambulatory Surgery and More
Once an outage is under control, the next step is keeping key decision makers up to date with the latest information. This maintains order and keeps a facility's processes functioning as normal.
The knowledge of when and where inside of your facility an outage occurs as soon as possible means they can get the right people on the job quicker and solve any potential issues faster.
The Medi-Products Power Outage Alert System does that—with no subscription fees included.
What is the Power Outage Alert System?
The Medi-Products Power Outage Alert System is add-on equipment package. It fully integrates with our entire line of battery backup generator systems and operates by connecting to your facility's pre-existing phone line.
When an outage occurs and your generator is equipped, this add-on:
Automatically dials and sends outbound calls to alert (up to) 4 pre-programmed numbers of the outage.
Continues to call each number, in the order they're programmed, until the alarm is acknowledged.
Sends alerts when the backup generator has stopped receiving input power (i.e. an outage has occurred.)
Sends alerts when the backup generator stops providing output power (i.e. its batteries have been depleted.)
Has a programmable delay so notifications are only sent if an outage lasts for a pre-determined duration.
Monitors and reports ambient room temperature when dialed inbound.
Includes a Built-In Microphone to record custom alert messages when an Outage Occurs, perfect for facilities with multiple units or locations.
All of these features are available, with no subscription fee required.
The Power Outage Alert System's abilities can be further enhanced with the Temperature Probe Package.
This add-on feature:
Integrates directly into the power outage alert system
Expands it capabilities by monitoring the internal temperature of your Pharmaceutical or Medical Cold Storage Appliances.
Reports the temperature of your fridge when an inbound call is placed.
| | |
| --- | --- |
| | Note: Power Outage Alert Systems and Temperature Probe Packages are only available as product add-ons. Either at time of purchase for, or to be retrofitted onto an existing Medi-Products battery backup system. |
How Does the Power Outage Alert System Work?
Installing and Setting Up a Power Outage Alarm
The Power Outage Alert System contains its own panel with a full alphanumeric keypad and dedicated controls. This panel is separate from the battery backup generator and operates independently. It will be located on the front panel of the backup system, unless requested otherwise.
During production, the power outage alert system integrates directly into the emergency battery backup power system and as such will arrive pre-installed.
| | |
| --- | --- |
| | Note: We highly recommend adding the Power Outage Alert System at the time of initial purchase. Retrofitting an existing system with a power outage alert system is possible, but will result in increased cost and labor. |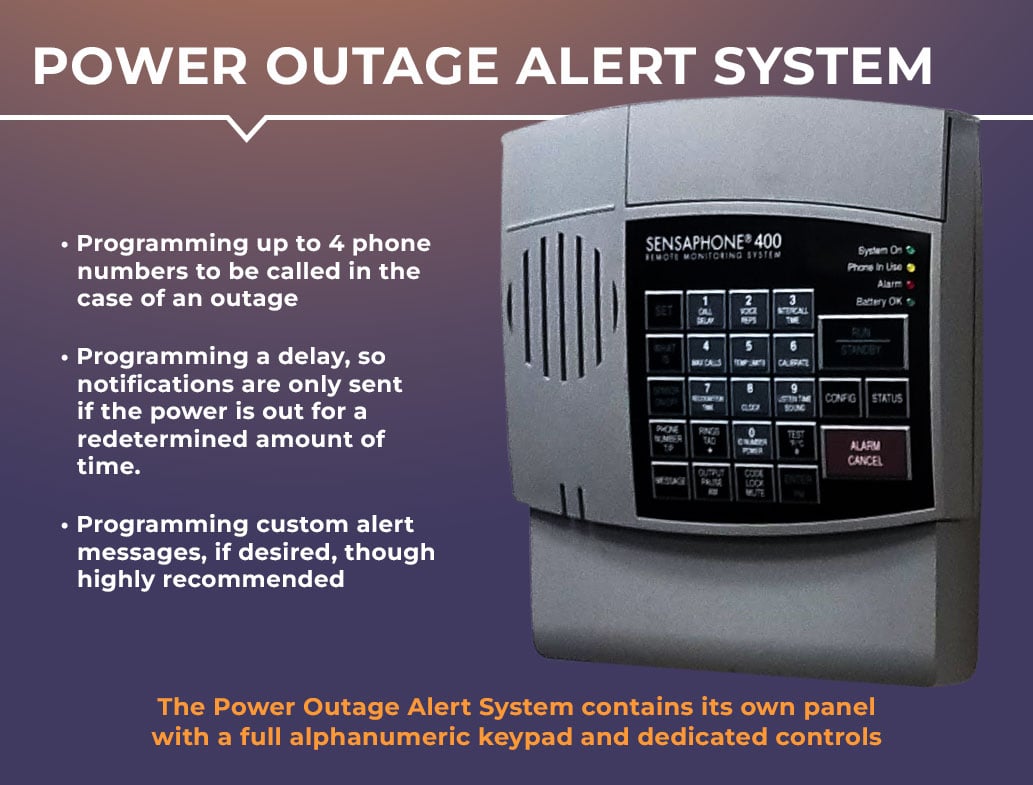 Once the battery backup generator is fully installed, the power outage alert system will need to be set-up in order to begin functioning.
This quick setup Includes:
Programming up to 4 phone numbers to be called in the case of an outage
Programming a delay, so notifications are only sent if the power is out for a predetermined amount of time.
Programming custom alert messages, if desired, though highly recommended
Phone Line and Networking Options
We strongly recommend connecting your power outage alert system to a traditional copper-wire phone line—a.k.a. a POTS line. This is because traditional phone lines remain functional during an outage—so your calls are certain to go through.
However, the following options are also available, including:
VOIP
and Cellular Hotspot Service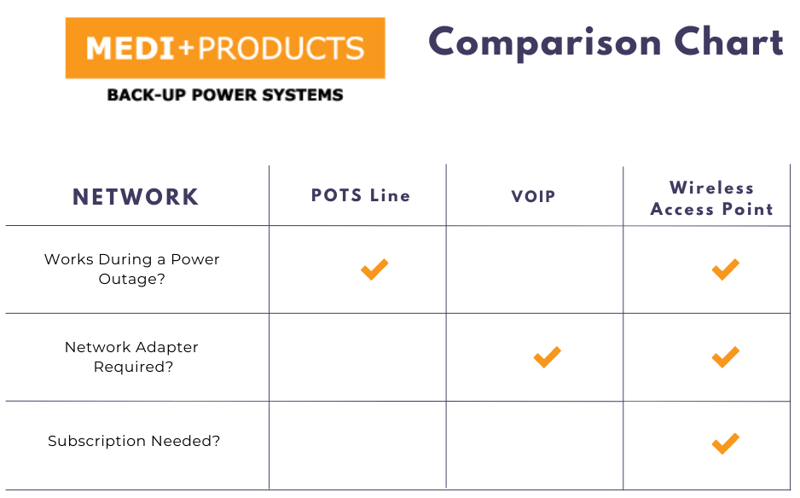 VOIP (Voice Over Internet Protocol) is, simply put, phone service very similar to what you would traditionally experience. But, instead of the service going through telephone lines of the past, service is delivered via your facility's internet connection. In order to connect your Power Outage Alert System to a VOIP service an adapter will be required.
This adapter works by connecting directly to your Power Outage Alert System's phone jack. At the same time, the adapter also connect to your facility's VOIP service. Once installation is complete, any incoming calls to the Alert System will be converted to an analogue signal that it can then process. Conversely, any outbound calls the alarm places will be converted from an analogue signal to a digital signal able to be sent over VOIP service with no issues.
For facility's without POTS lines or who have fully-transitioned to VOIP services, a VOIP adapter presents a simple and inexpensive option to connect your Power Outage Alert System
However, keep in mind that if at any time your facility's internet access is temporarily unavailable, as is often the case during widespread power outages VOIP services will most likely also be unavailable. This would also mean the Power Outage Alert System would be unable to place outbound calls or receive inbound calls.
Cellular Hotspot Service (also known as Wireless Hotspots) provide robust and reliable service for facility's who do not want or have access to traditional phone lines, but for whom VOIP isn't the right fit.
As the name implies, Cellular Hotspot service is generally provided through a cell phone provider. The hotspot adapter either plugs directly into the Power Outage Alert System via its phone jack, or a wireless adapter is connected to the phone jack of the Alert System to syncs up with the hotspot adapter. Once set-up, the Power Outage Alert System will be able to receive inbound calls and dial outbound as normal via your chosen cellular network.
However, in addition to the hotspot itself, you will need to add it as a device to your facility's wireless plan before use (which may increase your monthly bill). In addition, you will need to acquire and install a SIM card from your provider before it will function—this is often provided/mailed at the time you add it to your wireless plan.
While Medi-Products does have a limited selection of hotspots available to purchase, we do not provide the cell service or SIM cards. So, to ensure compatibility we recommend your facility's IT department or employee designated with this responsibility to contact your cell phone service provider.
Though, ultimately cellular networks are generally considered "critical" infrastructure—often having their own backup power systems—you can be confident that in an emergency your service will be functional. For added assurance, if you have an available outlet, your hotspot adapter can even be plugged into your Battery Backup System to ensure functionality during an outage. Because of their small size, Hotspot Adapters use very little power and should not significantly affect your system's ability to deliver its quoted runtime.
What Happens During a Power Outage
When an outage occurs, the power outage alert system automatically detects when utility power stops, and the backup generator begins providing battery power instead.
In either scenario, immediately—or after a pre-programmed delay—a pre-recorded emergency alert phone call automatically goes out. This message is sent out to up to 4 pre-programmed phone numbers.
We recommend pre-recording a custom message so that during a power outage emergency listeners can be aware of:
What location the outage has occurred at
Which System/Room is Experiencing an Outage
Each number receives a call the order in which it was programmed into the alarm. The alarm will continue to call each phone number, in order, until a listener picks up the call and enters the "acknowledgement code" as stated on the phone call.
With that information, your facility can now begin preparing for it's outage and alerting all other relevant staff and physicians to take appropriate action.
Can a Power Outage Alert System Send Text Notifications?
Power Outage alert system's do not currently send notifications via SMS, MMS, or email.
Does the Power Outage Alert System Monitor the Status of My Generator?
The Power Outage Alert System features some built-in monitoring. Chief among these, are the abilities to send an alert if the backup power system's batteries become depleted.
At anytime users can also call the alarm and receive a report regarding four unique "Status Zones":
Zone 1: Monitors ambient room temperature via included sensor.  This can be switched out to monitor the refrigerator's internal cabinet temperature if  you choose to equip the optional temperature probe.
Zone 2: Monitors the Output power of your indoor generator system. This will indicate if the appliance is not supplied any power either from the battery or the backup power system.
Zone 3: Monitors the input power of the backup generator. This monitors if utility power form your facility is being supplied to the generator. Input power is what both charges the system's batteries and passes power through to the appliance.
Zone 4: This is an extra zone to be used for the add-on temperature probe. This monitors the refrigerator's internal cabinet temperature.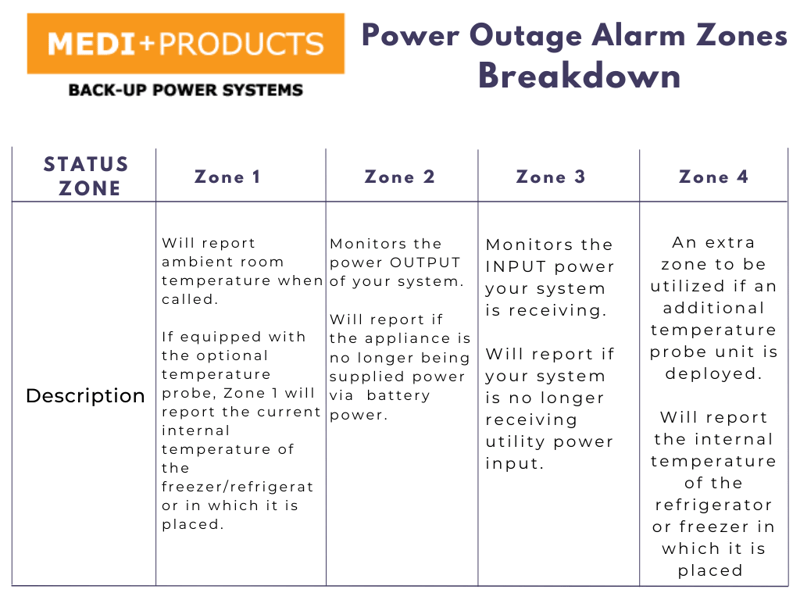 If you are looking for a Monitoring System That Includes:
Remaining Battery Life Estimates
Battery Voltages and Amperages
And more
We recommend combining our Power Outage Alert System with our web-based, remote generator monitoring software. With all three add-ons—power alarm, temperature probe and web based monitoring—you'll have all the information you need, accessible 24/7, to make the best decision possible for your facility.