SOLUTIONS FOR SUPPORTING YOUR REFRIGERATED PHARMACEUTICALS DURING A POWER OUTAGE
SOLUTIONS FOR SUPPORTING YOUR REFRIGERATED PHARMACEUTICALS DURING A POWER OUTAGE
Transporting Vaccines During Power Outages

– Does it make sense to attempt to move your vaccines during a power outage? Although using a vaccine transport vehicle might help move your vaccine cache to a better powered facility, how will the transportation affect vaccine potency? What are the pros and cons of a vaccine transport vehicle? How does this option compare with others in terms of cost and vaccine integrity? This section explores the merits and limitations of a vaccine transport vehicle as well as the competencies that will be required in order to successfully pull this off.

Using an Ice Lined Refrigerator to Endure an Extended Outage

– An ice-lined refrigerator minimizes the need to transport vaccines during an extended outage. But does it provide a better option compared to other methods of backup vaccine storage? What happens if you are facing a longer power outage than you expect? We analyze the pros and cons of using an ice-lined refrigerator here, including what such an option needs to function and the potential challenges that might arise from using this backup method. If you are considering the merits of this approach, then this section is a must-read.

Installing a Fuel Powered Generator to Support Your Appliances

– Rather than trusting a non-powered backup option for your vaccine storage, you might choose to generate your own power instead through a backup power source. Fuel powered generators can help you maintain the cool temperatures needed to store your vaccines. But will this option make sense for you, all things considered? Here, we provide an overview of this backup option, including the advantages and limitations of using a fuel powered generator for your vaccine storage.

Using Battery Backup System to Support Your Refrigerators & Freezers

– Without the burden to replenish fuel stores or devote a large space for installation, a battery backup system has its advantages over other backup plans for vaccine storage. However, there are many considerations to keep in mind in determining whether this option can meet your vaccine storage needs, especially in terms of maintenance, capacity, and longevity. Read this section to understand the pros and cons of using a battery backup system and the obligations such a choice represents.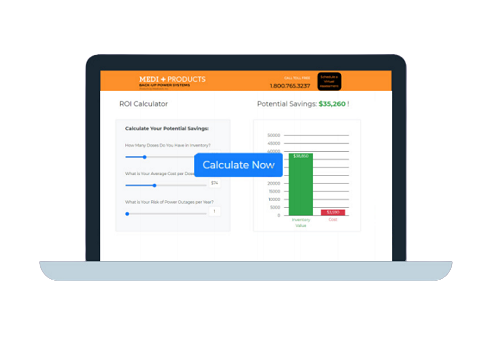 CALCULATE THE SAVINGS ON YOUR BATTERY BACKUP SYSTEM INVESTMENT:
CALCULATE THE SAVINGS ON YOUR BATTERY BACKUP SYSTEM INVESTMENT: