Overview of Options for Supporting your Refrigerator & Freezer With Backup Power
When it comes to finding the ideal battery backup power solution for your facility today, there are more fantastic choices available on the market than ever before.  Especially in the healthcare space, companies with offerings that cover a variety of specialties exist—that means finding the system perfect for your practice should be easier than ever, right? …Right? Well, with an abundance of knowledge comes the need to sort through it all—that is what this section of our learning center is all about. 
We find that while many options may seem to be comparable—for example, all of these are safe for indoor use—upon further review there are significant differences lying beneath their surfaces that very well may affect their suitability when regarding your facility's needs.
For example, a battery backup unit that appears perfect—and possibly cheaper—may be unable to provide the necessary power to start your appliances, be unable to run them for as long as you'd like or be designed in a form that renders it difficult or otherwise unable to be placed/moved around in your facility. This could create a potentially dangerous or even life-threatening situation in an office-based surgery environment if medical devices cease to operate properly.
However, to best help you in your journey, we've put together a detailed compilation of answers to our clients most asked questions regarding competing options —as well as our own—so you may best compare and decide on your own which option best satisfies your facility's necessary requirements.
Geneforce Power Backup Systems Review: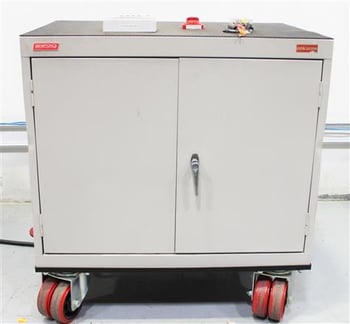 With a diverse range of offerings in terms of performance, product lines geared towards (though not exclusive to) healthcare facilities like surgery centers, while offering a solid value proposition—GeneForce is a serious consideration when deciding on a backup power supply.
That performance and price value comes with the caveat that the whole range of systems come in a singular form factor which varies in size, based on power of the system—potentially limiting the flexibility your facility has in where it can be placed due to the amount of floor space it could take and a lack of mounting options—though models that should theoretically have long a run time are plentiful.
Some of the challenges you may find are they lack a hardwire solution, and their systems might be restrictive in terms of where you can effectively deploy them in your facility due to their rigid cabinet designs. You will also want to be sure that all their components and type of batteries they use are of premium grade.
TempArmour Refrigerator Review: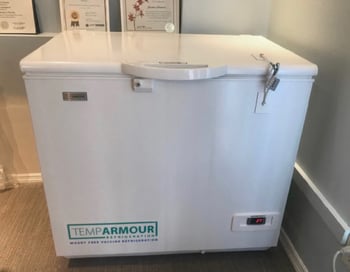 While technically offering an uninterruptable power supply for sale in their lineup—under the name Powerhub — TempArmour's bread and butter lies in their line of purpose built refrigerators for vaccines and VFC compliant freezers that boast the ability to maintain safe holding temperatures for days in event of a power outage—up to six for the TempArmour Refrigerator and four days in the case of their freezer.
These offerings are quite attractive for facilities solely looking to replace their older appliances with newer, more efficient ones who already have a backup generator solution.
Additionally, the TempArmour vaccine carrier is quite the enticing option for a facility looking for the best vaccine transport container. Whether moving your supply between buildings/rooms in day-to-day or during an emergency, their portable vaccine carrier—in a similar vein to their refrigerator—can maintain temperatures of 2-8ۣ°C for up to 3 days.
However, while able to maintain their temperature for days in an outage situation, the appliances cannot be opened and their contents not accessible during these emergencies. This is because the repeated exposures to ambient air will cause the contents to fall out of safe temperature ranges. The reason access must be restricted is because these temperatures are achieved by advanced insulation technology instead of by powering the compressors which would normally allow the appliance to continue to produce and cycle cold air throughout.  
The largest drawback for protecting your vaccines and pharmaceuticals in this manner is the lack of space available in the refrigerators' storage cabinet—it may be less than your inventory requires, limiting how much you can keep on hand.
Backupbatterypower.com UPS and Backup System Review: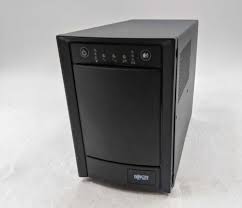 Housed in a sleek, black tower with a modern, high-quality LCD screen, and with pure sine-wave converters in every system—Battery Backup Power's UPS battery backup system certainly look the part of a premium, medical-grade backup power option. Their top offerings even reach a cost of over two-million dollars and can produce over two-million watts of power. This means they have the capability to provide a plethora of options in terms of uninterruptible power supplies for medical equipment.
Coming in multiple form factors, Battery Backup Power offers their units in a boxy, computer tower-like packaging, as well as in a rack mount form not dissimilar from a server blade (of which they can be mounted right alongside in a server). Coincidentally, Battery Backup Power's systems can be outfitted with ethernet, USB and other inputs that are more strongly associated with modern computers to take advantage of remote monitoring capabilities. 
Despite their performance capabilities and wide range of offerings—including 3 phase battery backup, Battery Backup Power's systems cannot house enough batteries for sustained runtimes on their own. To extend the effective runtime of your system, you will need to continuously daisy-chain battery packs. Ultimately, this means devoting valuable floor space without the option to effectively mount them. This can be partially mitigated using the rack mount-style systems, though their use is more focused toward data-center applications.
 For the purchaser with mobility in mind, models available with wheels are limited—the lowest power unit with this capability begins at six-thousand watts and 2.16 kWh of power.