MOBILE PLUG & PLAY SYSTEMS

THE REASSURANCE
THE REASsURANCE
This medical ups was introduced by MEDI+Products in 1990 and continues in production to the present time. The REASSURANCE™ utilized the newly-developing power inversion technology based on the invention of the FET (Field Effect Transistor) which made reliable, compact, and efficient conversion of battery-stored energy to 120 volt, 60 cycle power. The REASSURANCE™ is a mobile, self-contained power generator housed in a stainless steel cabinet on a castor-wheeled base. Optionally it can be fitted with equipment shelving transforming it into an unitized surgical equipment tower.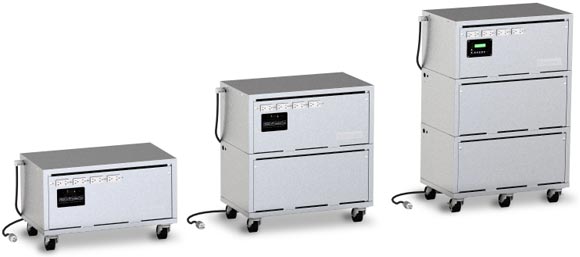 CART A
16 1/2D x 28W x 17 1/2H
CART B
16 1/2D x 28W x 30H
CART C
16 1/2D x 28W x 42 1/2H
VERSATILE
The Reassurance™ is available in a wide range of sizes to suit various applications. Currently output wattages range from 2000 to 4400 watts and the integral battery bank sizes range from 140 to 840 amp-hours. There are optional metering devices that re-cord energy storage, energy usage, and predicted runtimes. Hardwired versions are also available. A state-of-the-art 4-level recharging system is available which maximizes battery life.

OPTIONAL HARDWIRE
Standard 30amp twist lock receptacles enables easy hardwire applications.

PLUG & PLAY
Unit also includes 3 standard wall outlets and a standard 15 amp plug for recharging.

DELUXE LCD PANEL
LCD Panel with metering and rate controls can be upgraded to include runtime estimation and battery energy level calculator.
Custom Systems:
MEDI+Products Knows that "One size does NOT fit all", and that while we endeavor to maintain stock levels to provide rapid order fulfillment, we also design our products to be conformable to varying customer needs. To one client economics may be the top priority, while another may be focused on functionality, a special configuration or physical size. The MEDI+Products team is about solving problems, saving money, and doing the right thing. Let our engineering, design, and service group build your system to fit the needs of your existing surgery center.