MOBILE PLUG & PLAY SYSTEMS

THE REASSURANCE
THE REASURANCE
This medical ups was introduced by MEDI+Products in 1990 and continues in production to the present time. The REASSURANCE™ utilized the newly-developing power inversion technology based on the invention of the FET (Field Effect Transistor) which made reliable, compact, and efficient conversion of battery-stored energy to 120 volt, 60 cycle power. The REASSURANCE™ is a mobile, self-contained power generator housed in a stainless steel cabinet on a castor-wheeled base. Optionally it can be fitted with equipment shelving transforming it into an unitized surgical equipment tower.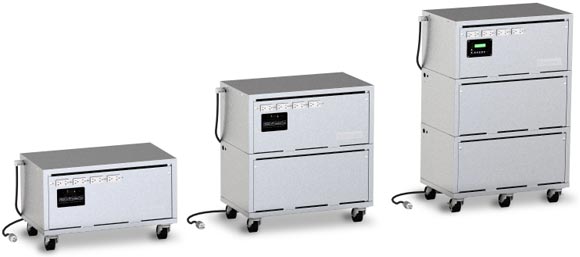 CART A
16 1/2D x 28W x 17 1/2H
CART B
16 1/2D x 28W x 30H
CART C
16 1/2D x 28W x 42 1/2H
VERSATILE
The Reassurance™ is available in a wide range of sizes to suit various applications. Currently output wattages range from 2000 to 4400 watts and the integral battery bank sizes range from 140 to 840 amp-hours. There are optional metering devices that re-cord energy storage, energy usage, and predicted runtimes. Hardwired versions are also available. A state-of-the-art 4-level recharging system is available which maximizes battery life.

OPTIONAL HARDWIRE
Standard 30amp twist lock receptacles enables easy hardwire applications.

PLUG & PLAY
Unit also includes 3 standard wall outlets and a standard 15 amp plug for recharging.

DELUXE LCD PANEL
LCD Panel with metering and rate controls can be upgraded to include runtime estimation and battery energy level calculator.