Healthcare architecture (also called healthcare design) is an essential, but underappreciated sector of the healthcare industry. Having professional and experienced healthcare professionals isn't all it takes. Nor is it enough to have a physical location where people go to receive medical attention.
This is where an architect steps in. Their design and optimization of healthcare organizations is integral to its effectiveness.
A healthcare facility's architecture should be designed to improve patient outcomes and satisfaction. At the same time, providing staff with means to deliver better treatment is crucial as well.
Because healthcare technologies are ever-growing and improving, healthcare architecture too is constantly evolving and changing. This means it is always working to meet industry's demands and need for patient-centered design.
While many elements go into an efficient health care facility's architecture, there is no one solution. But we've compiled a list of the following elements that are a good place to start. These are perfect whether you are starting from scratch or looking to improve an existing facility.
Starting on the outside, an efficient road network improves traffic and makes entrances easier to find. It is best to make sure vehicular access and approaches are intuitive and clear roads should aid a stress-free commute. Not add to it.
Additionally, parking spaces and treatment center buildings should be strategically placed. This makes sure patients, and their families are on the quickest path to the front door.
2) Aesthetically Pleasing and Welcoming Building Design
Hospital architectural design should reflect the visual and cultural cues of the facility and the region. Covered drop-offs, open/transparent lobbies and public spaces are a must. These, in conjunction with warm, natural materials will provide a calm, welcoming atmosphere.
3) Comfortable Waiting Areas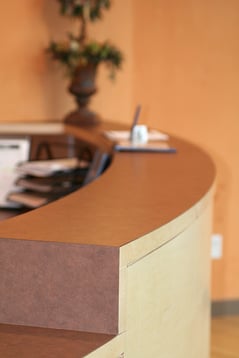 While there is no place like home, it is best to have waiting areas that provide comfort and help reduce anxiety. The waiting room and time spent there are usually one of the most stressful parts of medical treatment.
As a result, extra effort in making it as comfortable as possible goes a long way in increasing satisfaction. It should have windows for daylight, calming art and comfortable furniture.
Finally, consider situating your waiting areas along the perimeter. This will make wayfinding easier and mitigate patient and family stress.



4) Soothing Clinical Environments
A soothing and aesthetically pleasing environment should not be limited to external areas alone. The examination areas should also soothe and improve patients' mental health as much as possible. Positive distractions like art, material palette and vies. All these will contribute to a calming and healing environment.
5) A Safe Building
Apart from aesthetics, the building should be constructed to inhibit spontaneous microbial activity. It should feature surfaces and ventilation systems that reduce the spread of bacteria.
Red List-free materials that provide clean and filtered air are recommended as well.



6) Prevent Overcrowding
The facility's floor plans should cater for proper traffic flow by maximizing every square inch of space. If not properly designed, overcrowding can make patients uncomfortable or lead to illness spreading.
Thus, layouts should be designed to promote patient comfort and give facility personnel ample room to work. One way to do this is by placing mini-waiting areas to accommodate patient family members.



7) Personalizing Patient Rooms
Personalizing patient rooms helps create a comforting experience for patients placed in a stressful environment.
The need for hospitalization elicits anxiety in most patients. Thus, having rooms with a more personal touch can mitigate these feelings of anxiety.
Things like customizable digital signage, family photos and artwork all work to reduce anxiety. These things also help patients, an

d their families have better visits, leading to better outcomes.
8) Scalable Rooms
As COVID-19 restrictions begin to roll back, patients may sometimes have many visitors at a time. Furniture like sofa beds and recliners make it easier for caregivers and visitors to have the space they need without crowding the room.
Also, recent trends have shown that visits from family and friends during recovery can improve outcomes.
9) Alternate, Accessible exits
This is especially important for patients who are leaving the hospital but still need help. It should be an alternate discharge route that is:
Comfortable and private
Does not go through the main hospital doors.
Accessible those using crutches or wheelchairs for the first time.



10) Installing A Reliable Emergency Power Solution
Power is one of the most important factors any health technology needs to operate effectively. However, due to nature's unpredictability, it is impossible to have a constant utility power supply.
Thus, facilities should carve out spaces for battery backup systems during the planning process. When incorporated during the design phase, battery backup power can be wired to provide instant power directly to the outlets that your most critical tools use.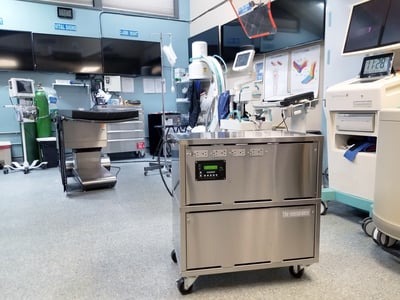 NFPA 99 by its nature requires a source of backup power in your facility. These standards apply to the electrical, mechanical, plumbing, and medical gas and vacuum systems inside care centers.
All healthcare providers must maintain the appropriate standards to both ensure high-quality care and remain accredited. By not following NFPA-99 standards (often used by other accrediting bodies), you risk having to shut down.
A Medi-Products Battery backup systems meet the requirements of both a type-1 and type 3 EES, per NFPA99 conditions.
Additionally, their vertical, cabinet-like design and leak-proof batteries mean they can be installed in even the tightest spaces and oriented in any way to make them fit.
Plus, if your medication or vaccine room is truly tight on space, a hardwired backup power unit can instantly supply remote power to your appliance—directly via the outlet its already plugged into.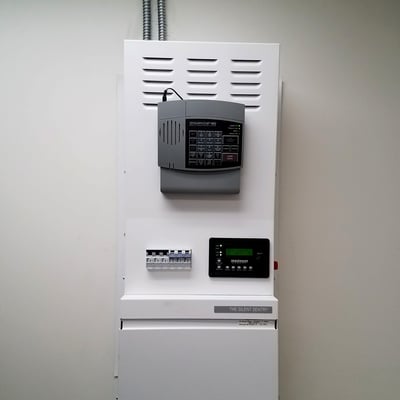 Regardless of what kind of system is the best fit, they ensure that your entire stock of vaccines is protected from a sudden loss of power (and the resulting temperature excursions) by guaranteeing a seamless transition from utility power to backup power.
Even better, is that battery generators can be outfitted with as much power as you want. So, systems can be designed with enough power to protect a facility's inventory: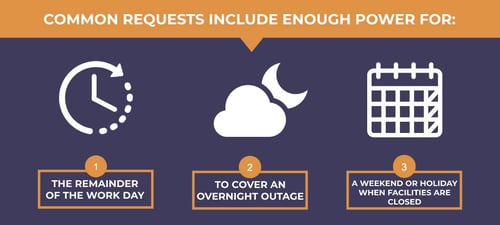 Overnight

All day

Over a weekend

Or even for a whole week.
So, to protect your facility from tens of thousands of dollars in lost vaccine stock, speak to a Medi-Products battery backup expert.
They'll help design you a system that both meets your power needs and will fit inside your facility—for a much lower cost than what your vaccines are worth. So, a backup power system pays for itself the first time your power goes out.
Designing a custom system is as easy as taking a picture of your appliance's nameplate, and a photo of the room where it's in.
Then, you just email both photos to our Product experts, and we'll provide you with multiple options for backup power protection.
For more information contact: 1.800.7653237