How Much Space Does a Battery Powered Generator Occupy?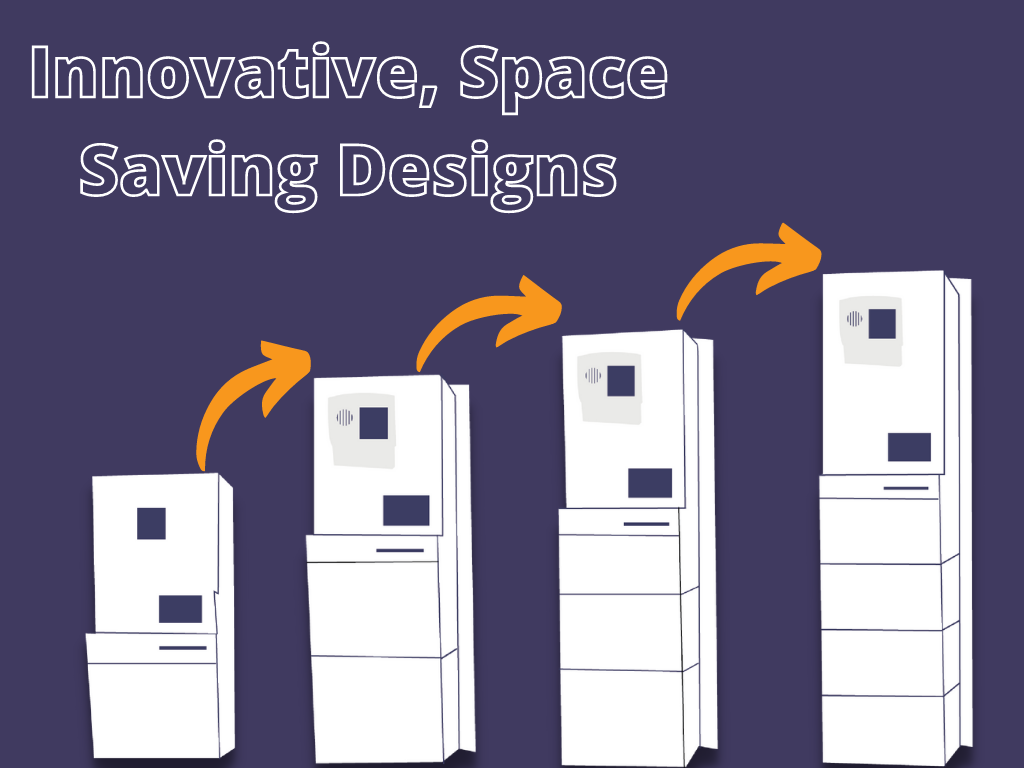 Battery powered generators can supply critical backup power to any appliance inside of a medical facility for as long as you need
.
Refrigerators, freezers, surgical tools, and even imaging equipment. The benefits of battery backup power apply to medical tools of all shapes and sizes—from the smallest drills to the biggest MRI machines.
But, how big is a battery backup system going to be?
Will I be able to fit it inside an office or exam room?
Simply put, a Medi-Products battery backup system is about the same size as a closed cabinet, though a fair bit thinner.
As a rule of thumb, if you can fit a person in a space (or say a water cooler, the classic office staple) you can fit a battery backup system.
But, as our systems increase in power and battery capacity, we build up, not out. By attaching additional battery storage compartments, we the height and weight of the system increase, but the amount of floor space it uses remains constant.
While, system size and weight plays has great affect on the the price of shipping—The heavier the system, the more it will cost to ship—it's effect on the installation and day-to-day usage of your backup power system is minimal.
Because they can fit almost anywhere—and in the case of standalone and hardwired units—don't move, weight matters little
.
For mobile units, their caster
largely
offset the difficulties that come with moving a unit
.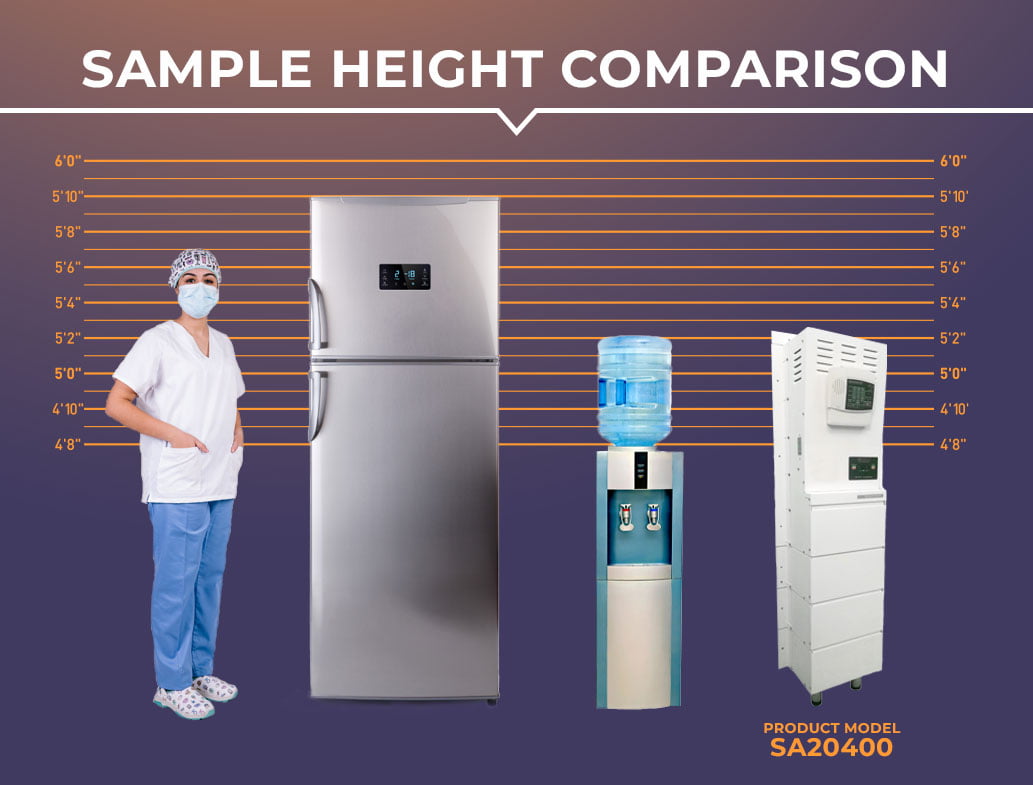 Standalone/Hardwire Backup System Dimensions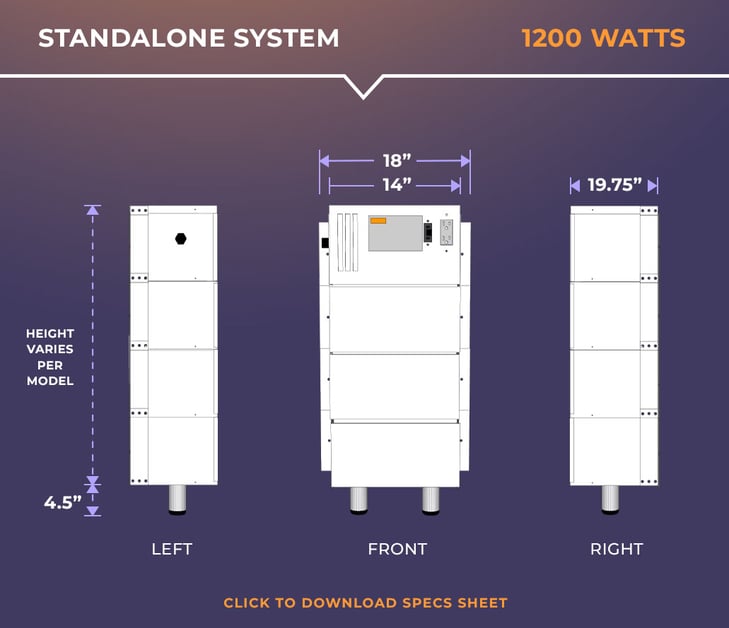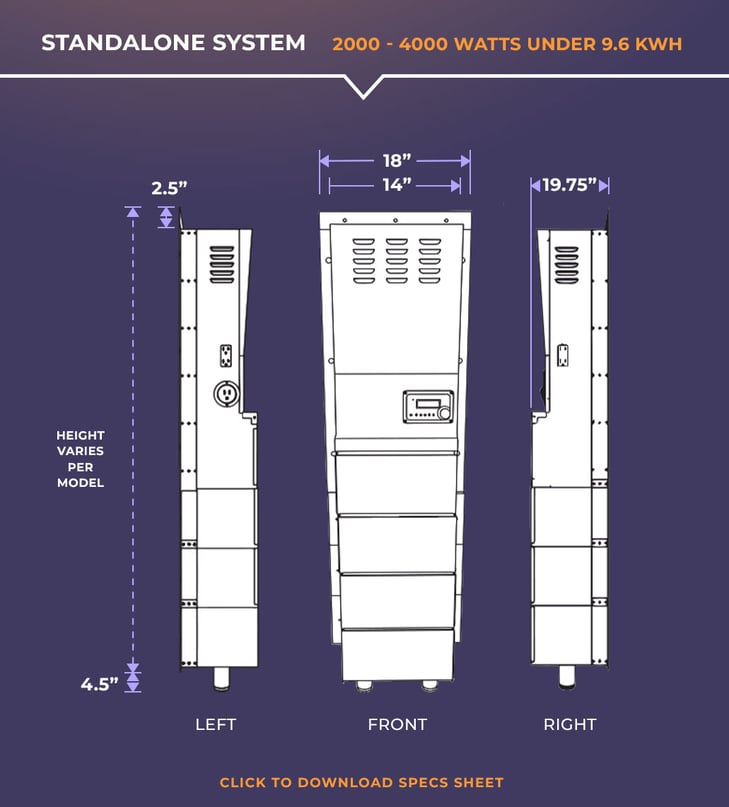 They may have different names, and deliver power in separate ways, but the size and dimensions of hardwire and standalone systems are identical.
Utilizing the same powder coated, off-white metal cabinets, every Standalone/Hardwire system measures 9.75 inches long by 18 inches wide—including the length of the flanges.
However, the height of a Standalone/Hardwire system will vary depending on the number of batteries used for energy storage.
Smaller, lower capacity Standalone/Hardwire systems can be as short as 16.25 inches—about knee high.
And, at their tallest, a Standalone/Hardwire cabinet will reach 93.25 inches (7 feet 8 inches)—just shorter than the ceiling height of an average room.
This means that regardless of how much power is needed, a battery backup system can fit in almost any room.
If you can stand somewhere, you can fit a battery backup unit.

Let's look at the 1200-watt systems as an example.
The smallest of these—our 1.2 kWh, one battery model—stands at 16.25 inches tall, 18 inches long and 9.75 inches wide. As the battery capacity increases, ONLY the height is increased. Subsequently, the 2.4, 3.6 and 4.8 kWh systems have respective heights of 24, 35.75 and 43.50 inches.
The result? A system with four times the storage capacity—4.8kWh vs 1.2kWh—at less than three times the height, without using any more floorspace.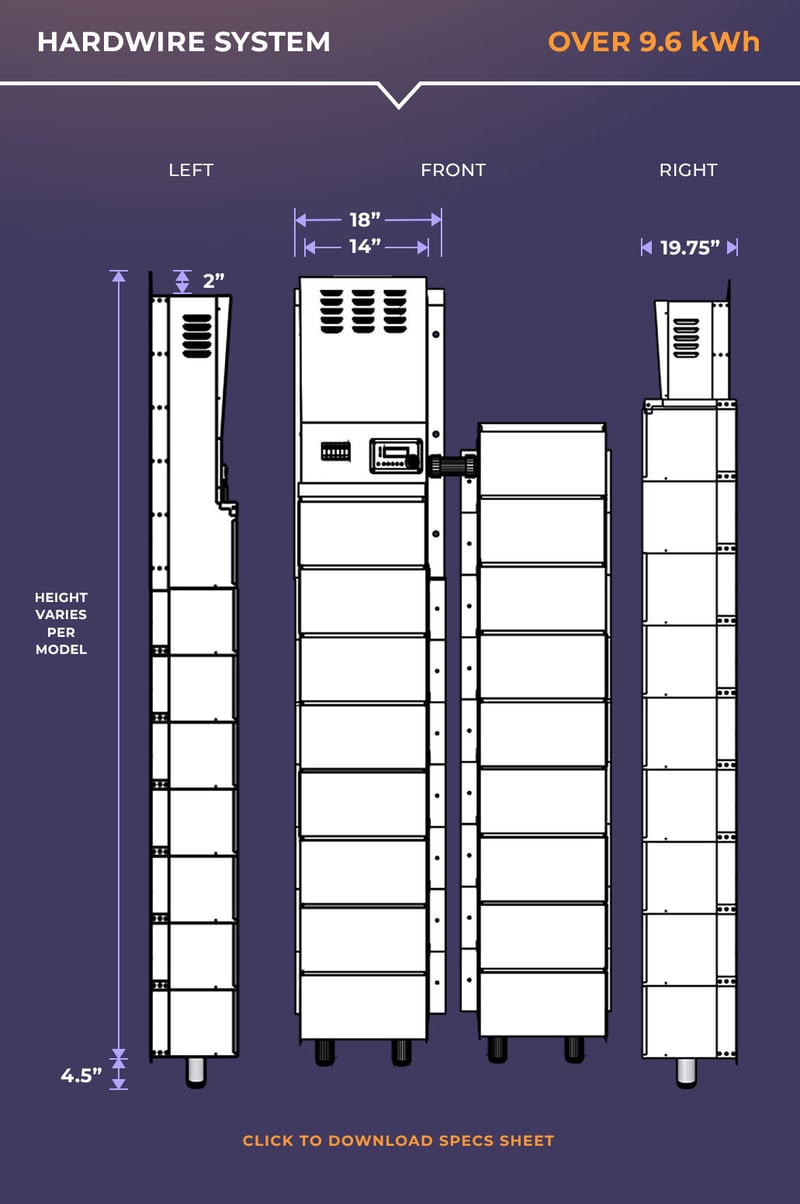 For clients like ambulatory surgery centers with exceptionally large capacity needs, multi-cabinet hardwire/standalone units are available. These specialty systems feature additional cabinets with identical dimensions to increase storage capacity.
The additional cabinet(s) connect to and are mounted directly adjacent to your main cabinet. Multi-cabinet systems have the advantage of drastically increasing the amount of backup power available, while still maintaining a smaller footprint.

Mobile Battery Backup Unit System Dimensions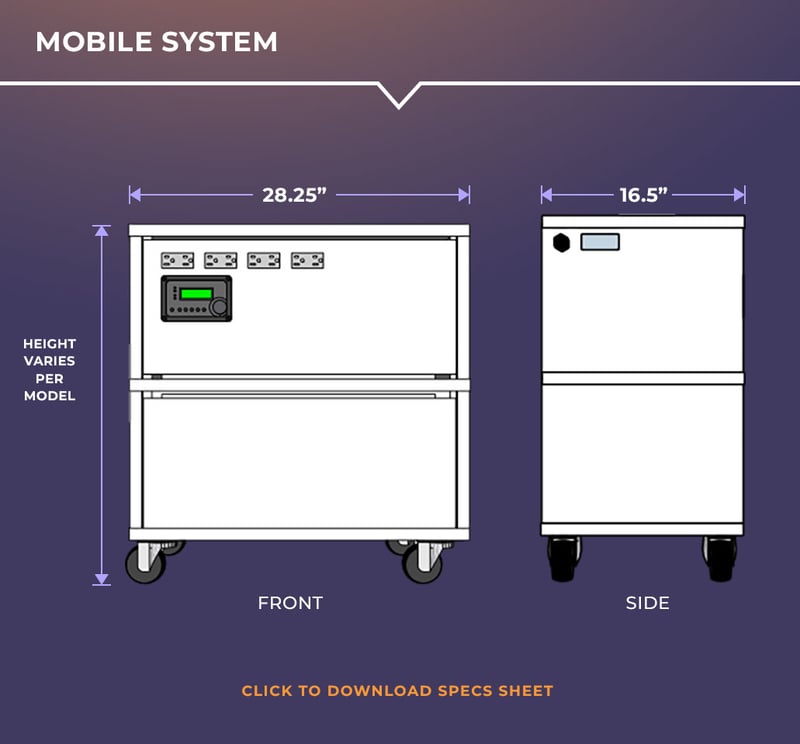 Mobile Units, like their counterparts also benefit from a modular and vertical, cabinet-like design. And, like its Standalone/Hardwire relatives, will increase in height as storage capacity increases.
However, because they are often deployed on-the-go, special considerations have been made to their design.
Firstly, Mobile systems are built out of stainless-steel. Secondly, to accommodate the locking casters which allow them to move, they are wider, longer, and shorter than standalone/hardwired systems. Measuring 28.25 inches long and 16.5 inches wide, the top acts as a sterile counter space on which bio-medical materials can be placed.
To ensure that mobile systems can be moved safely they only come in three sizes of one, two and three tiers, respectively.
Smaller, one-tier systems measure 17.75 inches tall—about knee high.
Two-tier systems measure 29.75 inches tall (~2.5 feet)—about waist high.
Finally, three-tier systems measure 42.25 inches tall (~3.5 feet)—about chest high.
How Much Does a Battery Backup System Weigh?
The weight of the batteries accounts for the bulk of our systems total weight. The powder-coated metal cabinets are in a distant second-place.
As a result the weight of any two systems can vary significantly. The lightest are just over 150 pounds, the heaviest are just under 800 pounds.

So naturally, as a system increases in storage capacity, it will also increase in weight
.
However, the increase in weight is often well worth it, as you're receiving more runtime for your appliance without sacrificing valuable floorspace.
An increase in the weight of a system is not anything to be afraid of, as Standalone/Hardwire systems:
Arrive partially disassembled
Are meant to be stationary
Regardless of the number of batteries, it will use the same amount of floorspace.
This means:
Assembly and Installation can be completed by one person, as none of the components weigh more than sixty pounds
Once installed, it does not matter what they weigh as they will rarely move, if ever.
You can maximize the efficiency of the space you dedicate to backup power
Though, if you If you think you will need to regularly move a system, a Mobile System may be a serious consideration. While they do arrive fully assembled, once removed from the pallet, they will be able to cart around your facility should you need, on-the-go power.