Medical Power Supplies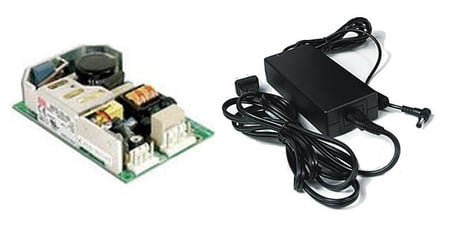 A medical power supply is a component that often is part of a power cord or installed within an electronic medical device. Its function is to supply the power to medical device and its electronics (often it is referred to as the switching power supply).
The reason for this post is so you do not get a medical power supply mixed up with a medical backup power supply otherwise known as a UPS (uninterruptible power supply).
The function of a power supply is to transform one type of electricity to another, sometimes changing it from an AC current to DC current. Many medical devices with sensitive electronics use switched-mode power supplies which allow their output voltages to be switched off electronically, which enables the device to shut itself down before an electrical short or spike will damage the equipment.
What differs a medical power supply from a standard power supply (which might be used for powering a computer), is that a medical power supply has to conform certain testing standards such as: IEC60601-1 I and IEC 60950-1 isolation and electrical leakage standards.
These standards are set by UL and are designed to protect patients that are hooked up to electrical devices from, electric shock, electrical leakage and other energy related hazards. To learn more about these standards you may want to visit the UL Website.
Medical Battery Backup Power Supply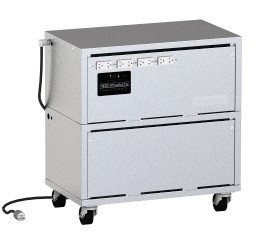 A medical backup power supply (otherwise known as a medical UPS) is a battery backup system that supports medical equipment and medical procedures during the event of a power outage.
Medical equipment is plugged into this system to prevent power interruption in the event of a utility power failure. The power supplying the medical equipment automatically transfers over to a bank of storage batteries which continue to support the devices until utility power is restored or the medical procedure is terminated.
Medi-Products manufactures backup power systems that are customized to the power requirement that each medical procedure demands. These are medical ups systems that are designed to support the equipment used in mission critical medical procedures such as:
Critical Lab Equipment

Hematology Equipment and Tissue Processors
If a medical battery backup power supply is what you are looking for Medi-Products can help build a system that is suited to your medical application